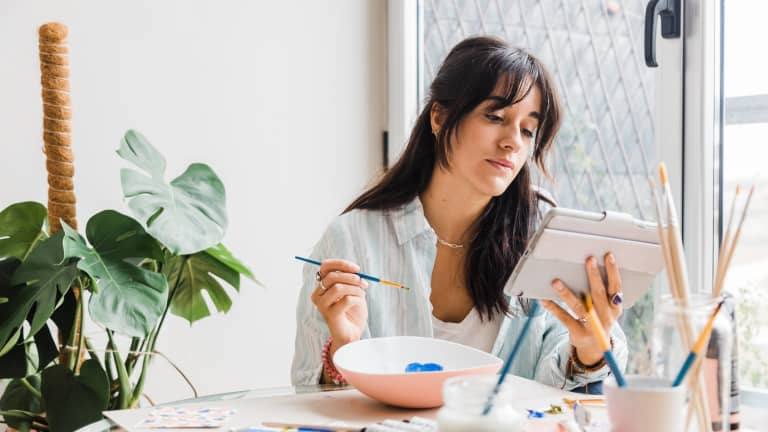 Treat Yo'self To This DIY Crafting Table With Ample Storage
Whether you like to paint, sew, paper quill or dabble in a little of everything this table is a must have for any crafter.
Chances are, if you are here at DenGarden, you probably fancy yourself a crafty person. No matter what your expertise is, one thing chronic crafters can never get enough of is space. Truly delving into a a hobby means racking up a lot of supplies and often nowhere to put any of it.  Enter this brilliant DIY project. 
Bibi the Blogger on TikTok had the genius idea of replicating a craft table using prebuilt cubby shelves, a slab of plywood, a sander and some paint. And truly, it could work for so many different types of hobbyists. 
The best part is that this is completely customizable to your crafting needs. You could easily make the table have extra storage by putting more shelving units on top, or add a pegboard backing to keep essential tools close at hand. We love how simple this concept is making it accessible for DIYers at all skill levels can pull it off. 
Some other ways to make it fit into your home would be to accent it with vinyl stick designs or painting the shelves and table top different colors. And if you need it to be multi functional, this would also make for a great homework station so projects and nightly assignments aren't such a drag.