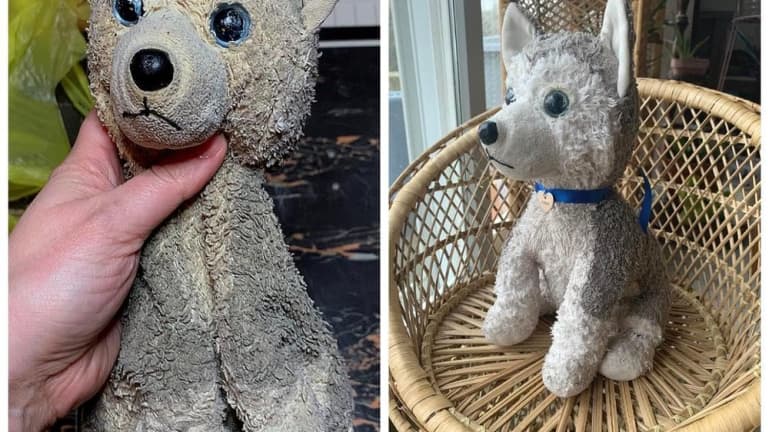 Woman Restores "Well Loved" Stuffed Animals and the Transformations Are Stunning
Danielle Allore-Taylor owns Fluff Restoration, a service that restores old stuffed animals to their former fluffy glory.
Most of us grew up with that one special toy that had to go all of the big trips with us. When we were scared of the monsters in our closets, we'd squeeze our lovey a little tighter, and brought them to the dentist to help us be extra brave. But after years of being well loved, our favorite stuffies take a beating. Their fur gets matted and their eyes lose their shine. Since they are truly irreplaceable, the best we can do is to restore them and that is where Danielle Allore-Taylor comes in.
Allore-Taylor was laid off in early 2020, and with so much time on her hands and an income not streaming during the middle of a pandemic, she had to get creative. A stuffed dog Max would end up being the break she needed. 
"I had a woman, her name was Ora," Allore-Taylor told KSBY News. "She messaged me and said, 'I have a stuffed dog. I've been looking for months for someone to fix him do you think you could help me?' So I did."
She recorded her process and took that pup from drab to fab with a little TLC. 
Since then, she has turned her passion for stuffed animal restoration into a full-blown business and viral sensation, Fluff Restoration. Recently, she revived a sweet pup name Magic and took followers through her processes, which is extremely thorough and done with a love of love. 
She begins by removing all of the original stuffing and giving the skin a good soak, after that, she restuffs and works on de-matting the fur. She restuffs the animals with new fluff and tends to any other details like chipped paint, missing buttons, and sewing up holes.
Perhaps her sweetest detail is how she sews a piece of the old fluff into a fabric envelope and tucks it in as the animals "heart," honoring the journey the stuffed animal has taken up to this point. 
Her prices range from $50-$90 per animal, but promises that she will never turn away someone who cannot pay full price. You can truly tell this is a labor of love for her. The care and detail in this process is truly heartwarming, and we can't imagine a better making lemons out of lemonade story than this.