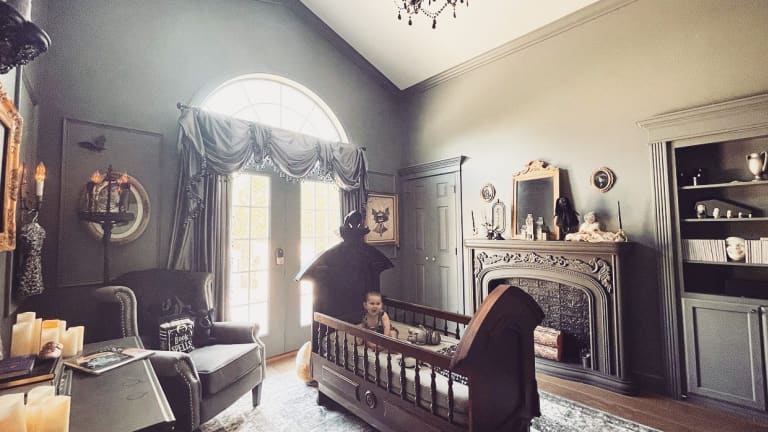 This Goth Nursery Room Is Eerily Adorable
Who says baby rooms have to be all pastels and farm animals? Certainly not Pro wrestler and mama Reby Hardy.
In a world of minimalism and Target bohemian living rooms fit for Joanna Gaines, be a Morticia Addams y'all. At least that is the advice Reby Hardy, model and professional wrestler, follows. Her home décor style can best be described as "gothic chic," and when it comes to sticking with a theme, no room was spared.
Including her kid's nursery and play room. One might wonder how to exactly pull off a "goth nursery" in a way that is still kid-friendly. Let me tell you, Hardy has absolutely pulled it off. 
A quick glance into the room and the first thing you'll notice is the pitch black antique crib from 1864. But taking a look at some of the other details, you get a distinct gothic Victorian vibe, thanks to trinkets like preserved locks of hair and slightly creepy dolls. 
The entire room is painted a matte black color and is adorned with faux candelabras for just the right ambiance. Of course the bookshelves are stacked with tons of "spoopy" books for kids and there are plenty of cool accent pillows. But perhaps one of the coolest features is a secret door that leads to a very bright and colorful playroom. 
Of course the biggest criticisms she has gotten are from folks who think the aesthetic is too scary for kids, but she assures them that "he kid who sleeps here has never had a night terror & feels very safe & loved in this room."
Many of her followers rushed to her defense, saying that "scary is subjective" and "babies have no idea of 'scary' things until they're taught."
Honestly that room looks pretty cozy, and it is always fun to see someone buck tradition.