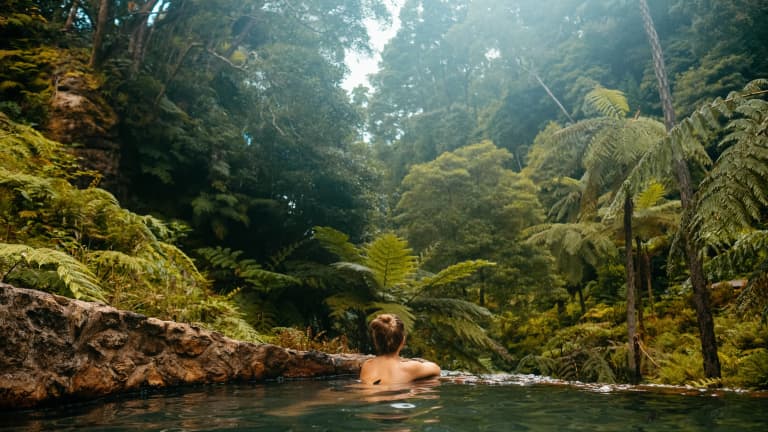 Singaporean Men Build Functional Underground Pools By Hand Using Nothing But Sticks and Mud
Known as the "Jungle Survivalists," these YouTube stars are showing off the ancient techniques used to make an oasis out of the jungle floor.
The Arena Media Brands, LLC and respective content providers to this website may receive compensation for some links to products and services on this website.
In 2022 we are so far beyond the Industrial Revolution that any task at hand we wonder: Is there a machine for that? Building with our hands with little to no tools is unfathomable, but in Singapore, there are two men who need little more than their hands and jungle terrain to create some of the most gorgeous and intricate pools you've ever seen.
Known as the "Jungle Survivalists," these two build complexly designed and functional pools by implementing ancient building techniques their ancestors used to survive in the jungle. The pair mix together mud and compact it in a way that renders it solid and firm. Once they configure it  they head back into the jungle to find materials to make natural dyes to help bring the design to life. The results are literally jaw-dropping.
The pair have created natural sanctuaries ranging from natural pools to underground homes. None of their structures are small scale either, they make these beautiful oasis that are functional and versatile.
Watching them do the full builds on their YouTube channel is mesmerizing, With no shirt or shows these two show every part of the process, clearing the jungle floor to ripping out branches. Sometimes armed with a machete they expertly secure their structures by using roots to keep builds in place.
What's really cool about their channel is they use natural sounds and folio instead of invasive background music so you can almost be submerged into the process. Which brings us to our final thought: Be warned. You could get lost in these dreamy builds for hours.