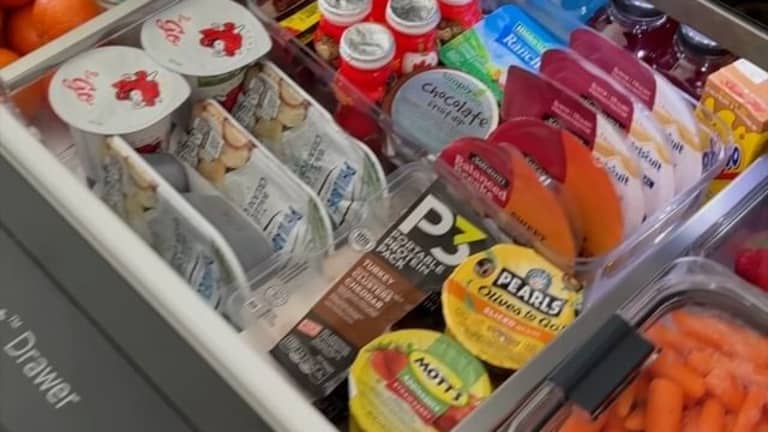 People Are Obsessed With Watching This Woman Replenish Things Around the House & TBH We Get It
File this account under "oddly satisfying" with a side of "organization tips" for future reference.
It's no secret that the internet is a weird place. After all, you can get everything from cute dog videos to the unmentionable other end of the spectrum. But perhaps one of the most delightful things to come out of social media culture is the discovery that we as a species are all collectively weird. And we enjoy, admittedly, kind of weird things.
Take for instance some of our relentless obsession with organizing. Looking a meticulously curated space be it a pantry or linen closet, can feel extremely soothing to some folks. If you find yourself nodding your head thinking "yes that sounds like me" allow us to introduce you to a pocket of the internet we are dubbing "ASMR Organization."
For this subsect of folks, you will enjoy the soothing sounds of containers popping open and snapping shut, liquid pouring, and snacks crunching as they transfer from their packaging to a prettier box. TikToker and home organizer extraordinaire Catherine Benson is about to be your new BFF. 
Yes, for a brief moment of sensory respite, you can enjoy watching a grown woman stock her kitchen after grocery shopping in a perfectly organized way. And if you're feeling alone in this enjoyment please don't. On this one ASMR Organization video alone there is 458k likes. That's a lot of folks who pass the vibe check.  
Followers reactions ranged from wanting to steal every item featured in the video to "Now I understand why my kids watch other kids play with toys on YouTube." 
Whatever your takeaway is, we get it. It's pretty satisfying, informational, and a really nice brain break.