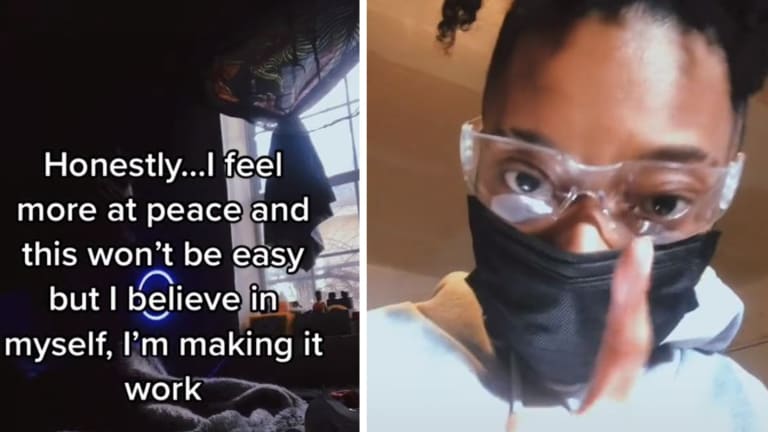 Internet Rallies Around Homeless Woman Who Moves Into Apartment With No Heat or Running Water
TikToker 3astsideparty moved herself out of a toxic situation and found a new place to start over, and the collective internet is helping her make her house a home.
Home is so much more than a place to rest your head at night. It is a space where you are safe to be your truest self. It's your physical and emotional shelter, so when your small piece of solace is toxic to your mental health, you worry less about what that space looks like and more about what it feels like. And for some, that means dealing with some pretty harsh conditions.
TikToker @3eastsideparty recently moved in with her mother after dealing with homelessness and bouncing from place to place. While she was appreciative of her mom welcoming her into her home, the truth was, it was a pretty mentally toxic environment for her to be in. With love, the TikToker moved into a rental property her uncle let her stay in. To say it was in rough shape is an understatement. Currently there is no flooring, the walls are freshly patched with no pain and there is no heat or running water. 
But she is determined to not let her circumstances get her down. After a trip to Walmart, she claims it took her a total of 7 hours and $200 to make her first night comfortable, and while the transformation isn't wild, it is pretty incredible to watch unfold. 
"One thing bout me? Ima make the best of any situation," she captioned it. 
Her resilience has since been rewarded by the internet. In less than 24 hours people flooded her TikTok with requests for her cashapps ($augustkeleigh) and Amazon wishlists to help make her place even homier as she works on building up a safe space for herself .
"If nobody says anything about you doing this I'm very proud of what you're doing for yourself takes a lot of courage keep your head up..." one follower said, summarizing all of our thoughts.
We can't wait to see what she does with her place.