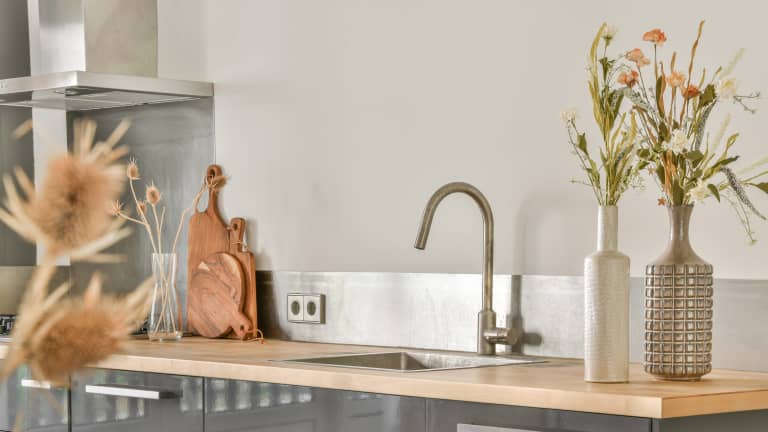 Remodel Cabinets for Under $100 Using This Renter's Brilliant Hack Meant For Cars
Vinyl wrap isn't only for your ride. With a little patience and know-how, you can transform your entire kitchen for less than $14 a yard.
Kitchens are sacred spaces. For anyone who is the family cook, we spend most of our time in there, at least a few times a day. When they look basic, we aren't motivated to be in that space. But have you ever looked up the costs of some kitchen renovations? We're talking thousands of dollars to do even the simplest remodels. Ain't no body got money for that!
Enter the brilliant world of TikTok DIY. Creator Paige Sechrist was faced with the dilemma of an ugly kitchen in her rental unit, which meant she was limited on options. So she got super creative and decided to reface her cabinets with an ingenious vinyl rap and the results are seriously impressive.
Using a heat gun, squeegee and 3M Controltac Opaque vinyl wrap in matte black, she and her mother painstakingly wrapped each and every cabinet surface in the kitchen. The coolest part? The vinyl is actually a vehicle wrap that cost her only $14 a yard. Granted this technique is not for the faint of heart. It takes a painstaking amount of patience to make sure the surfaces are smooth and bubble free. She explains it took about "one and a half full days work" to get it completed.
"It was a lot of work, but I absolutely love how it turned out," you hear her say in the voice over. "Now the kitchen is one of my favorite parts of the house."
Uh, us too! Now excuse us while we go measure out kitchens.