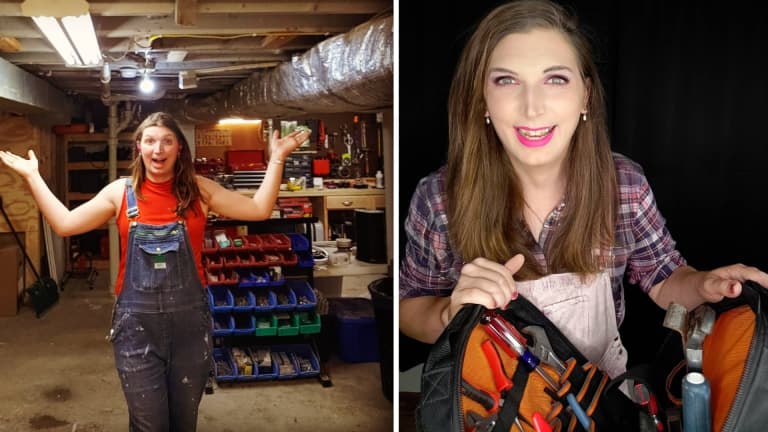 People Are Falling In Love With "The Trans Handy Ma'am" and Her Solid Home Improvement Advice
Meet Mercury Stardust, the "Trans Handy Ma'am" who'll teach you everything you need to know about upkeeping a home.
Homeownership is a wild experience. The thrill of getting those keys dwindles pretty quickly when you're faced with your first overflowed toilet or leaky sink; especially now that there's no one to shift the responsibilities to like a landlord. In fact, it can be downright overwhelming.
That's where Mercury Stardust comes in. The self-proclaimed "Trans Handy Ma'am" has been a maintenance and handy worker for over a decade and can unclog a toilet as fast as she can show you how to fix a giant hole in your door.
With a beaming smile and a friendly "hey there, hi" Stardust takes followers' help requests and shows people how to do DIY fixes around their homes, while simultaneously spreading awareness for the trans community.
On her page, followers can learn how to do so many common household fixes in a simple and accessible way. She gets down to the nitty gritty, showing folks how to do even the "easiest" tasks, like how to open a tube of caulk.
Warning though: It's pretty hard not to fall in love with Stardust's infectious laugh and kind demeanor. Her page is especially empowering for women, who are incorrectly stereotyped as not being able to "handle" fixes in and around the home. And for those new to the trans community, fret not. With love and acceptance Stardust openly talks about her identity breaking down misconceptions and flying in the face of hatred.
Check out her page (or even send her a help request) and never stress out over small fixes again.