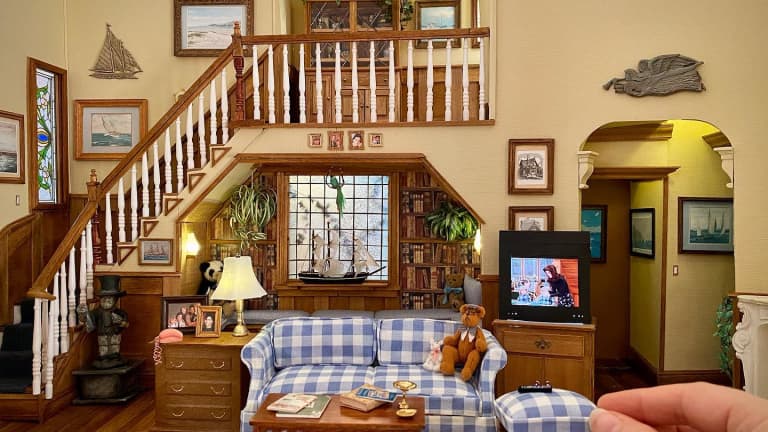 Artist Recreates Famous TV Show Sets As  Miniature Displays and Even Celebrities Are Obsessed
Bridget McCarty has brought the sets of "Friends," "Seinfeld," "Full House," and so much more to life in her miniature collection
Artists tend to have an eye for detail. It's what makes their work stand out. Painters are able to capture the exact way curly hair blows in the wind and the way tears can sting the eyes with just a stroke of their brush. For Bridget McCarty, here eye for detail has garnered her international attention, and rightfully so. Her medium of miniature making is flawless in execution, and she has been able to recreate the sets of some of the most popular shows and movies with mind-blowing accuracy. 
Yes, that is the miniature version of Jerry Seinfeld's apartment where she nails details down to the cereal boxes. She has gotten so good at her craft, even celebrities have been requesting her to do some of their own show's sets. John Stamos of Full House fame requested his show be brought back to life in miniature form and of course McCarty obliged.
Recently, McCarty caught the attention of Kelly Clarkson and scored a spot on her show where she detailed a little bit about her history with miniature making. 
I'm really obsessed with details... my grandmom used to collect miniatures and she used to say 'no touching.' Of course when you tell a kid 'no touching'  you become more obsessed. I've been doing this my whole life... I went to college and couldn't get through school work, I just had to get to the next dollhouse."
Looks like the obsession paid off. Make sure to follow her builds to see what she dreams up next!