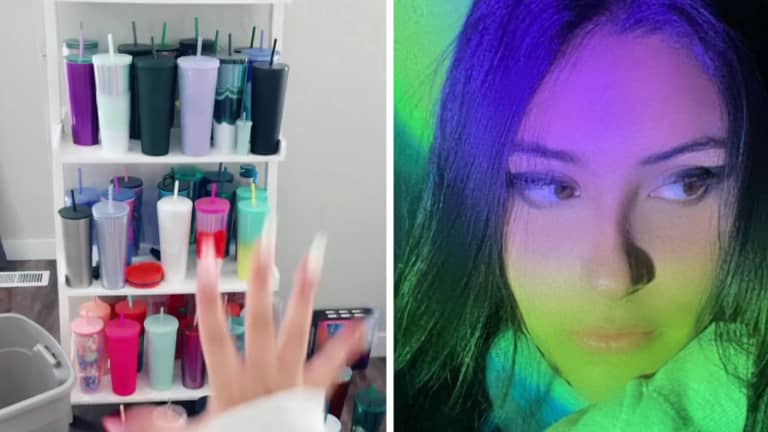 Woman On a Mission to 'Reset' Her House Comes Up With Elaborate Starbucks Cup Display
Tiktoker known for her "glow ups" came up with a super creative way to display her collection of reusable Starbucks cups
We love a woman with a vision and Tiktok/YouTube Star HoneyBobaBear is just that. She has a distinct neon style and her followers love her for it. She embodies exactly what you'd expect a Gen Z influencer to be, and her delightfully bright and quirky style gets all the bonus points for creativity. 
Currently, she has been taking followers on her journey to "reset" her house where she is reorganizing and designing her home around her favorite product finds. Perhaps her most elaborate and fun refresh is her guest bedroom makeover, where she essentially constructed a well lit shrine to her Starbucks cup collection.
Once you get over the seizure-inducing zooming, you'll come to appreciate the vision. She first lined the room in a neon rope light to mimic paint dripping for a pretty cool effect. She then constructed and staggered white shelving, measuring out height for her cup collection and back lit the structure for a soft glow.
The result was pretty stunning, and it's such a cool idea to decorate your guest bedroom with your favorite collection so it can be a multipurpose space. If we ever amass this many of... well, anything, we are definite going to steak a few of her tricks!