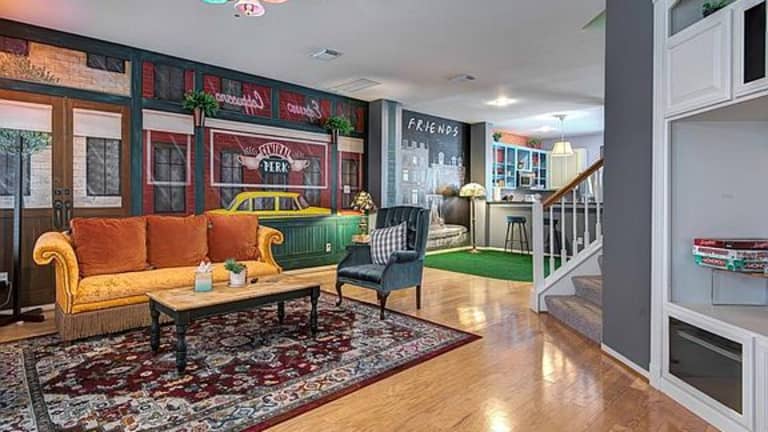 There Is a Townhouse For Sale In Houston That Is Literally Made For "Friends" Fans
Viral real estate account "Zillow Gone Wild" uncovers a townhouse that is  perfect for fans of hit 90's sitcom "Friends" and it only costs $330K
The line between fandom and obsession is thin at best, and nothing proves it quite like this house that just went up for sale on Zillow. The hysterical and viral account "Zillow Gone Wild" recently featured a home in Houston that took the concept of theme to the next level. From top to bottom, the condo is a shrine to the 90's sitcom Friends.
In the middle of the house is a chill "Central Perk" themed living room that leads into the foyer that has a mural of the fountain from the show's opening credits. He also points out that there is kitchen that is very Monica's apartment. Perhaps the best Friends element is the "PIVOT" mural that shows Ross screaming the most iconic line from one of the most iconic scenes in TV history. 
Sadly for anyone hoping to score this home, as of publication this house is currently pending for $13k over the listing price that posted 6 days ago on Zillow Gone Wild. And truly who could blame them? There will always be a secret part of us millennials who will romanticize that whacky 90's style. We only hope that the sellers are willing to part with that perfect coffee house couch.